Blaze and Bend Yoga. It's that simple. Burn it up and stretch it out at The Hidden Leaf with Leslie and friends.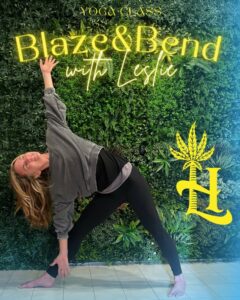 Yoga has long been known for its ability to promote physical  and mental wellness, and in recent years, it's been combined with other activities to create unique and engaging experiences. One such combination is Blaze and Bend Yoga, a practice that incorporates yoga with cannabis consumption to enhance the mind-body connection and promote relaxation.
If you're not familiar with the concept, Blaze and Bend Yoga starts with a cannabis session before moving into a yoga practice. Cannabis can help to relax the mind and body, allowing practitioners to sink deeper into their poses and find a greater sense of peace and calm.
In addition to the physical and mental benefits of the yoga practice, Blaze and Bend Yoga sessions offer a unique opportunity for community and connection. Yogis can connect with others who share their interest in yoga and cannabis, creating a supportive and welcoming atmosphere.
It's worth noting that while cannabis consumption is legal for both medical and recreational use in Virginia, it's important to consume it responsibly. At Blaze and Bend Yoga sessions, organizers typically provide guidelines for safe and respectful consumption, such as using designated smoking areas and refraining from driving under the influence.
Blaze and Bend Yoga sessions offer a fun and engaging way to explore the mind-body connection and enhance your yoga practice. Whether you're a seasoned yogi or just starting out, it's definitely worth a blaze and bend! Namaste!